Peugeot 205
Peugeot 205 predstavljen je 1983 i prvi je uspiješni mali automobil izašao s proizvodnih traka Peugeota. Kad je  1978  peugeotu kupio Simcu, koja je tada bila uspješna na  polju malih gradskih automobila, Peugeot je dobio pamet  i resurse za proizvodnju mamlih gradskih automobila. Tako su prvi modeli 205-ice  koristile motore naslijeđene iz modela 104. da bi vremenom prešle na modernije agregate pod oznakom PSA grupacije.  Skladnu i još danas atraktivnu karoseriju dizajnirao je Pininfarina, a mališan je svojom izvrsnom upravivošću  i solidnom izradom bio opasan konkurent tada popularnom Golfu serije 2 koji je predstavljen iste godine. Ja kao zaljubljenik u taj auto rado bi se usredotočio na modele sportskog karaktera pod oznako GTI .



Peugeot 205 GTI
Pug 205 GTI predstavljen je 1984 samo godinu nakon uspješnog predstavljanja slabije braće. U početku su se proizvodili s motorima  obujma 1580 ccm s oznako XU5J, koji je razvijao 105 zdravih konja.već 1986 snaga 1.6 litrenog motora  je podignuta na 115 KS zahvaljujući upotrebi glave  motora s modela 1.9 koji je predstavljen iste godine. 1.9 litreni model ostao je u proizvodnji do kraja ukupne proizvodnje modela 205 dok je 1.6 litreni model izašao iz proizvodnje dvije godine ranije.oba motora bila su aluminijska ,znači i blok i glava, imali su jednu bregastu osovinu u glavi i Bosch motronic elektronićko ubrizgavanje. Ovjes je bio uobičajan za male jurilice tog razdoblja a to je McPherson naprijed s stabilizatorom, a straga neovisan ,polukruta osovina, uzdužna ramena i stabilizator.prvi 1.6 litreni model imao je svega 860 kg te je s početnih 105 konja bio pravi mali trkać. Područja u kojima su ovi autići bili zaista zabavni su bile zavojite ceste te je svako tko je upoznao trikove postavljanja 205-ice u zavoj bez problema mogao dahtati za vratom i puno močnijim i skupljim autima. Što se tiće kočnica 1.9 litreni model imao je 4 disk kočnice dok je 1.6 litreni model straga imao bubanj kočnice. Iako je na papiru 1.9 litreni model bio jači punih 15 konja upravo 1.6 litreni model je onaj za kojeg svi istinski ljubitelji kažu da je eksplozivniji startniji i s više sportskog karaktera, zbog razlike u hodu klipa (kraći 73 na 1.6 naspram dužeg 88 u 1.9 uz isti provrt cilindra).


1.9 litreni model


1.6 litreni model
Peugeot 205 CTI
Sredinom 1986 predstavljen je i 205 CTI. Što je bila kabrio inačica  1.6 litrenog GTI-ja. Imala je poseban šarm i bila cilj želja mnogih mladih ljudi u to doba.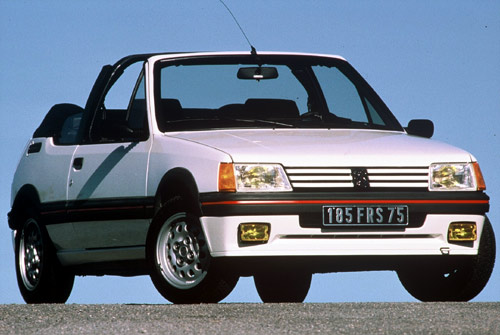 Peugeot 205 rallye
1988 predstavljen je i Rallye, cijenom povoljnija varijanta 205-ice za ljubitelje sportske vožnje. Peugeot-Talbot Sport koji je razvio i proizvodioRallye.odlučio se za brušenje 1.1 litrenog motora do obujma 1294 ccm kojem je snaga porasla na 103 konja.osim toga mali Rallye imao je i dijetu mršavljenja te je uklonjena sva zvučna izolacija i električni podizači što je rezultiralo težinom od samo 794 kg.preuzeti su prednji ovijes od 1.9 litrenog modela i zadnji ovjes od 1.6 litrene 205-ice. Proizveden je i rallye s motorom obujma 1.9, ali sa 105 konja za njemačko tržište, budući da 1.3 nije zadovoljavo homolagicijska pravila te zemlje.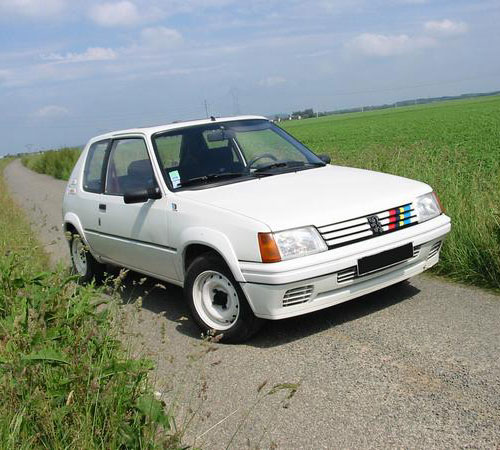 Sredina osamdesetih je bila zaista uspješna za Peugeot proizveden je milijunti 205, njegova varijanta T16 osvojila je svjetski kup u reliju1985 1986 godine. Već slijedeće godine peugeot je prodao više od dva milijuna 205-ica, a specijalna verzija T16 pobijedila je i na reliju pariz-dakar.

T16 trkaća verzija


T16 cestovna verzija


T16 pikes pike verzija
U devet godina proizvodnje prizvedeno je  332.942 GTI-ja ,72.125 kabrioleta, 241 cestovnih T16, a do kraja 1996 Peugeot je prizveo više od 5 milijuna dvijestopetica.
Realna cijena je do 1000 eura